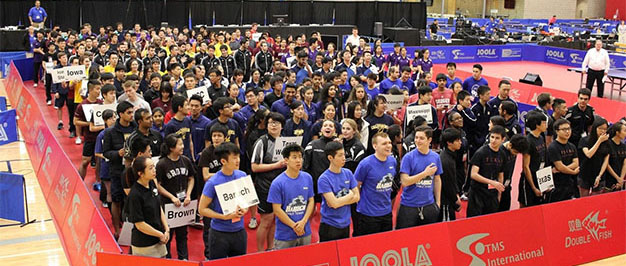 2018 iSET College Table Tennis National Championships

April 20-22, 2018 | Round Rock, Texas

Over 250 of the best college table tennis players...

representing more than 40 different colleges and universities...

battling for national titles in singles, doubles and team events...

in one of the most popular Olympic sports...

It's one weekend of table tennis you won't want to miss!
---
Come tournament time, live streaming will be available for the 2018 iSET College Table Tennis National Championships.
Until then, enjoy these highlights from last year's Championships:
---
The iSET College Table Tennis National Championships is the premier college table tennis event in North America. Hosted by the Round Rock Convention and Visitor Bureau in coordination with the National Collegiate Table Tennis Association (NCTTA), the 2018 Championships will be held Friday, April 20th through Sunday, April 22nd in Round Rock, Texas.
Men's and Women's Singles, Doubles, and Team events will be contested over the 3 days of competition.
For the latest event schedule, please check the Event Information page.