NCTTA Newsletter
September 2011
Classes are back in session and we're gearing up for another fantastic season of college table tennis. This month we've got the scoop on the NCTTA scholarship recipients, division reorganizations, new regional directors, plus the 2011 preseason rankings.
Read on for all this and more ...
2011-2012 Preseason Rankings Released
Familiar table tennis powerhouses top 2011 Preseason Rankings
Co-Ed Team Rankings

Texas Wesleyan
Lindenwood
Governors State
Maryland
California (Berkeley)
Florida
Georgia Tech
Baruch College
Waterloo
Virginia Tech
Texas
Virginia Commonwealth
Florida State
NYU
George Washington

Women's Team Rankings

Lindenwood
Waterloo
Texas
Texas Wesleyan
California (Berkeley)
2011 NCTTA Scholarship Recipients Announced
By Andy Kanengiser, Media Relations Chair
We couldn't wait any longer to share some good news – the names of four NCTTA players who are new scholarship winners.

The envelopes please! Two are students (and great players) at colleges in California, while the two other standouts hail from schools in Wisconsin and Texas. The scholarship is sponsored by the NCTTA and Newgy Industries, the makers of top-notch table tennis equipment, including table tennis robots.
First, the two female winners. They are: Jingwen Hui, a sports management major from the University of Texas and Ka Po "Anna" Ho, a freshman at the University of Southern California. Hui was a women's doubles semifinalist at the 2011 National Championships in Minnesota. Ho, whose major is undeclared at the moment, started a campaign to make table tennis an official varsity sport in New York City Schools. Anna Ho also has a website on her favorite sport at www.annalovestabletennis.com
The two men winning scholarships are: Ye Hu, a senior at the University of Wisconsin who's studying computer science and computer engineering, and Koji Higashi, a senior at the University of California-Berkeley whose major is environmental economics and policy. Hu was the 2010 Wisconsin State Singles and Doubles champion.
We hope to do more-in-depth profiles on these NCTTA players at a later date. The winners are judged on their table tennis abilities, the strength of their essays, financial need, and their work in the classroom. At NCTTA headquarters, we say congratulations to these four scholarship winners and thanks to all who participated in the annual scholarship contest!
2011-2012 Season Kicks Off with Reorganized Divisions
Welcome back college table tennis teams! To accomodate the continued growth of college table tennis, there are quite a few changes in store for the 2011-2012 season. If you haven't been following things too closely the last few months, here's what to expect:
NCTTA is welcoming several new divisions and has realigned many of the existing divisions. Find out which teams are in which divisions in the NCTTA teams list.
Division winners will qualify for the regional championship in one of 6 regions: West, South, Midwest, Great Lakes, Northeast and Mid-Atlantic.
Spring competition will feature division singles competition.
Membership registration is now open online. Here's what you need to do for your team for the upcoming season:
Fill out and submit the Online Membership Form by October 1.
Men's/coed and women's teams from the same school must register separately.
Pay the appropriate membership fee for your school (online as part of the Online Membership Form). Fees are $100.00 for returning schools, $50.00 for new schools.
Schools with both a men's/coed and a women's team that register and compete will receive a $25.00 membership fee rebate.
Take the Fall Eligibility Form to your school's registrar office to have them verify your players' eligibility and turn it in to your division director at the first meet.
Don't delay, schools that miss the October 1 early registration deadline will be assessed a $50 late fee, but can still register until 48 hours before the first division competition.
Any questions? Just ask: info@nctta.org
New NCTTA Human Resources Coordinator Position
By Andy Kanengiser, Media Relations Chair
NCTTA is looking for a enthusiastic and qualified individual to fill the new Human Resources Coordinator position. This is a position on the Board of Directors which replaces the old Historian position. The HR Coordinator is chiefly responsible for activities related to staff, volunteers, and alumni relations.
Responsibilities include:
Designing a staff and volunteer recruiting strategy
Supervising volunteer recruitment for division directors, regional directors, committees, etc.
Measuring and increasing staff and volunteer retention (includes developing appropriate volunteer benefits)
Drafting and maintaining volunteer position job descriptions
Coordinating and assisting with training of new staff and volunteers
Leading alumni relations and development efforts (chair the Alumni Development Committee)
Participating regularly in all NCTTA board meetings, email and message board discussions, motions and voting.
Interested? Submit a statement of intent (max. 1 page) describing why you are interested in the position, your background/qualifications, and why you think you'd be a good fit. Email it to info@nctta.org by the deadline of October 1.
NCTTA Names New Regional Directors
By Andy Kanengiser, Media Relations Chair
In August, NCTTA leaders selected an all-star lineup of new regional directors. We are delighted to announce the names of these talented men and women as they step up their roles amid recent changes for collegiate table tennis starting this fall. "All in all, we are pleased with the regional directors and look forward to great things as the NCTTA moves forward with its new league structure," says NCTTA President Willy Leparulo.
Across the board, we believe we've chosen people who will bring much energy to the sport they love 365 days a year. A quick tour of who's who:
- From the South Region, the new regional director is David Livings. He's served as the Texas Division director since 2008 and will now oversee a large South territory that includes divisions in Texas, Georgia, Florida and the Dixie Division. The region includes perennial powerhouse Texas Wesleyan and top 10 fixture Mississippi College.
- Up in the Great Lakes Region, Lillian Yu is the new regional leader. The former University of Toronto table tennis standout, Lillian led the new Eastern Canada division the past two years. An accountant in Toronto, Yu knows numbers, table tennis, and loads of people who play the game. Lillian will bring "great charisma and leadership" to her new role, Leparulo says.
- Next, let's head to the Midwest Region, where Linda Leaf is the new director. Leaf has done a fantastic job as director of the Upper Midwest Division since its inception. She helped organize the 2010 NCTTA championships in Waukesha, Wisconsin, near Milwaukee, and was a big-time booster in attracting the U.S. Open to Milwaukee this summer. Linda's skills and knowledge will be a tremendous asset to the region.
- In the Mid-Atlantic Region, Seemant Teotia is the new regional chief. Involved with NCTTA since 2002, Seemant is the former director of the Virginia Division and remains active with the NCTTA's eligibility and ratings committees. Needless to say, we are very excited to see Seemant become even more active with the NCTTA family.
- The West Region is another big chunk of turf on the NCTTA map. The new regional director is Kevin Li, a University of California-Berkeley alum who just finished up a year as Northern California Division director. Kevin also proved to be invaluable as a volunteer at the 2011 national collegiate championships in Rochester, Minnesota. Kevin oversees a dynamic region that includes such teams as UCLA, Stanford, Cal, and San Jose State.
- Then back east in the Northeast Region, the new regional director is Nelson Gore. A retired music professor who loves table tennis about as much as he loves music, Gore is a relative newcomer to NCTTA leadership. He did, however, found the Wellesley College club in the 1990s and we're sure he'll hit all the right notes in his new assignment with NCTTA.
Teams from USA and Canada Compete at 2011 Universiade
By Andy Kanengiser, Media Relations Chair
Hats off and a hearty round of applause goes to all the players, but especially our fabulous NCTTA delegation from the United States and Canada at last month's 2011 Summer Universiade.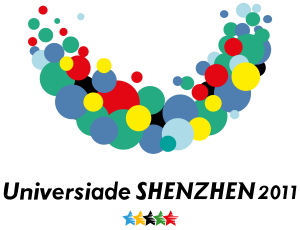 The games were held in Shenzhen, China's fastest growing city for the past 30 years. The city of 13 million people is located on the Hong Kong border. The games over the summer attracted super athletes from dozens of sports, from swimming to basketball, from fencing to table tennis to golf.
The USA men's roster included Mark Hazinski, Yahao Zhang, Chance Friend and Byran Simcox, while the women's team consisted of Judy Hugh, Stephanie Shih, and Barbara Wei. Jasna Rather along with William Rather were the USA team leaders with Sara Shu Hazinski taking on coaching duties. In order to represent the United States, players had to be U.S. citizens and 27 or younger.
Here are just a few of the highlights. Early on, Mark Hazinski swept his group and defeated competition from Lebanon and Saudi Arabia. In the women's singles, Judy Hugh advanced and beat players from the Phillipines and the Congo in Africa. In women's singles, Sara Yuen of Canada defeated Barbara Wei of the USA. Another familiar face on the scene was Texas Wesleyan standout, Jose Barbosa, in Shenzhen representing Brazil.
When all was said and done, the women's team from the USA finished in the top 16 in the world, while the men's team ended up in the top 28 teams. Mixed doubles squads that competed included the pairing of Mark Hazinski and Judy Hugh and Yahao Zhang and Stephanie Shih. They gave it their best shot, but succumbed in the first round.
Again, everyone from the NCTTA participating in the World University games, take a bow! You deserve our thanks for your hard work competing against the very best in Shenzhen, China!
NCTTA Leaders Attend Chicago Conference
By Andy Kanengiser, NCTTA Media Relations Chair
When event planners from across the United States visited Chicago for a late August conference, NCTTA leaders were there to make contact with folks interested in hosting future table tennis championships.
From the Kentucky Sports Authority in Frankfurt, to the Flagstaff Convention and Visitors Bureau in Arizona, to the Tallahassee Sports Council in Florida, sports commissions and convention and visitors bureaus from around the country were at the CONNECT 2011 conference in the Windy City. The conference ran from August 26-27th.
The event was an opportunity to build important contacts and let people know more about what it takes to host the NCTTA nationals. The 2012 championship games are already booked for Plano, Texas in April. But what about 2013, 2014 and beyond? That's up for grabs. Interested cities will need to go through a bidding process to be considered and the NCTTA will evaluate each proposal.
NCTTA President Willy Leparulo, and Vice President Joseph Wells are among those expected to visit Chicago to work the convention crowd, develop contacts and learn much more about what these cities can offer as potential table tennis tournament sites.
"The CONNECT 2011 Conference in Chicago gives the NCTTA a chance to meet with leaders from groups, facilities and cities that are interested in hosting NCTTA championships," Leparulo said. "We we're really excited to have the opportunity."
Mike Meier Stars in Korean Movie as Table Tennis Umpire
By Andy Kanengiser, NCTTA Media Relations Chair
Mike Meier is no Tom Cruise or Tom Hanks. Nobody is confusing him with either famous American actor who earn millions of bucks on the silver screen. A longtime friend and supporter of the NCTTA, who also serves on the NCTTA Audit/Discipline and Paralympic committees, Meier is making a name for himself as an actor in a new Korean movie. The title? This flick is appropriately called "Korea."
And in truly inspired bit of casting, Meier gets to play … drumroll please … a foreign table tennis umpire. But, as it turns out, it's a pretty cool role. Instead of playing an extra in the movie, Meier was given lots of lines in the film.
The storyline for "Korea" is pretty simple. It tells the true story of the South Korean and North Korean women's table tennis teams joining forces for the 1991 World Table Tennis Championship in Chiba, Japan. It is told from the eyes of the main character in the movie, Hyun Jung Hwa, the 1988 Olympic medalist in table tennis, a hero, celebrity and much more.
As for Meier, this table tennis lover truly enjoys the bright lights. He's also has been booked recently to play a role in a reality TV show in Korea. The show is called "Let's Go Dream Team 2." He's in a table tennis episode. And, spoiler alert, he plays a table tennis umpire, once again!
For more on Meier's fantastic film adventures in Korea, check out his blog. You never know, the next time you hear about Mike Meier, he could be in Hollywood with other big stars on the red carpet. And if he starts winning any big-time acting awards, we may have to start calling him "Oscar" Meier. But seriously, congrats, Mike Meier, from your NCTTA fans!
Virginia Beach Attracts U.S. Table Tennis Nationals
Division reorganization leads to new division director position openings
Virginia Beach will be the destination point for outstanding players and fans attending the 2011 U.S. Table Tennis Nationals from December 13-17. While millions of people across the USA are trying to hang-on to summer, folks in this Virginia tourist town are busy making plans for their big winter event just a few months down the road.

"Our goal is to produce the finest table tennis event of the year in one of the best venues in the country," says Dean Johnson, a member of the 2011 Nationals Local Organizing Committee. It's an event, he added, "that will exceed the expectations of players and spectators alike."
The 2011 U.S. Nationals will be held at the city's $22 million state-of-the art convention center built in 2005. With 150,000 square feet of column-free space, excellent lighting and a location that's mere minutes from oceanfront host hotels, Virginia Beach's fantastic facility is a terrific place to host the 36th annual event. There are 2,200 free parking spaces for visitors, lots of healthy choice concession stands, a video wall in the lobby for live streaming and much more. Shuttle service will run every few minutes to host hotels all day.
As a free NCTTA service, we wanted to share some of this information this summer, so you can mark the dates on your calendars, and start booking travel arrangements to make it to
Virginia Beach and back.
Got an idea for a future story or newsletter topic? Email the NCTTA Media Relations Chair.