Vietnamese Cowboy in the Wild Wild West
Truong Tu Leads Strong San Jose State Team

An NCTTA Feature - October 2011

By Kevin Li
NCTTA Media Relations Committee

In the land of surfing, beaches, and palm trees, a tough San Jose State team is gearing up for the for the 2011-2012 college table tennis season. After winning the NCTTA Northern California division last season, San Jose State has their sights set even higher for this year.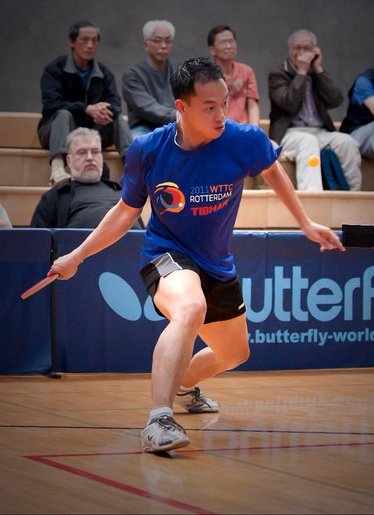 Leading the way is San Jose State's, Truong Tu, one of the top ranked players in the division, who went undefeated in collegiate play in 2010-2011 season. Among Tu's many titles are the 2011 West Coast Spring Open champion and the 2007 Vietnamese National Amateur Open champion.
Growing up in Ho Chi Minh City, Vietnam, Tu started playing table tennis when he was 6 years old. But in his early years, table tennis may not have even been his best sport. A promising bowler, Tu was at one point named "Youth of the Year" in the Ho Chi Minh City Bowling Association.
After deciding table tennis was his true passion, Truong Tu trained intensively with his table tennis coach, and became one of the Top 12 Viet Juniors in 2001. Upon moving to the United States in 2006 to pursue a marketing degree, Tu's collegiate career at San Jose State got underway.
Tu took a semester off after helping his team to the 2011 Northern California division title, but even in his absence the team achieved a 19th place finish at the 2011 Championships. Now returning to SJSU to pursue an MBA, the 2447 rated Tu joins other highly ranked teammates Sean Lee (2432) and Sally Su (2249) on a strong San Jose State squad.
"I have high expectations for this season," says Tu. "I hope we can go to Nationals." With tough division foes like Stanford and Cal not to mention West Region opponents from the Southern California and Northwest divisions, this is no small task. But San Jose State still figures to be one of the stronger teams in the region.
Outside of table tennis, Truong enjoys many sports including bowling, soccer, volleyball, and tennis. He's also quite the family man, living in Northern California and supporting himself and his sister, Uyen. If that weren't enough, Tu is also a talented guitar player who enjoys performing when he gets the chance.
One thing's for sure, with talented players like Truong Tu leading the way, San Jose State will be a force to be reckoned with this season in the Northern California division.

Got an interesting story idea for a future feature article?
Drop us a line at publicrelations@nctta.org