NCTTA Newsletter
March 2012
With the 6 regional championships concluded, and all the wildcard invitations extended, the field is set and anticipation is building for the 2012 Championships. We've got recaps for you of all the regional championship action, plus find out more about where the 2013 Championships will be held.
Read on for all this and more ...
Field Set for 2012 Championships
Texas Wesleyan and Lindenwood head up one of the strongest Championships fields in recent memory for the 2012 Championships in Plano, Texas.
For fans of college table tennis, it's no surprise to see Texas Wesleyan as the No. 1 overall men's/coed seed. No. 2 Lindenwood and No. 3 Mississippi College are also no strangers to Championships excellence. In contrast, No. 4 San Jose State is a relative newcomer. The Spartans qualified for their first Championships in 2011, finishing 19th. Toronto, with perhaps its strongest men's/coed team ever, nabbed the 5th overall seed.
On the women's side, it was Lindenwood taking the top overall seed. The No. 1 ranked team all season, the Lady Lions are heavy favorites to capture their second women's team title in 3 years. No. 2 seed Toronto, which finished 2nd place at the 2009 Championships and 8th in 2011, is looking to break through and capture their first ever Championship. Texas which finished 5th place last year, figures to improve on that performance, starting out as the No. 3 seed. Washington and NYU round out the Top 5.
Checkout all of the seedings on the 2012 Championships website:
Seedings: Team | Singles | Doubles
News Release: Plano Set to Welcome College Table Tennis Championships
Be sure to follow us on Twitter for all the Championships updates and developments:
twitter.com/collegett
Sponsor Corner
Special thanks to our sponsors, Butterfly and Newgy!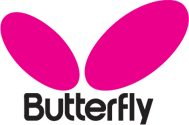 NCTTA, would like to thank Butterfly for its support of college table tennis. Butterfly is the exclusive NCTTA League and Championship Equipment sponsor for the 2011-2012 season. Grab all your favorite Butterfly equipment in the online Butterfly store.

Also, special thanks to NEWGY Industries, for its continued support of college table tennis Newgy offers a great way to fundraise for your club and help out our sponsor as well by signing up and participating in their Newgy Robo Pong Affiliate Program.

Toronto Rises to Top in Great Lakes Regional
By Andy Kanengiser, Media Relations Chair

A powerful University of Toronto table tennis team left its opponents singing the blues in the NCTTA's Great Lakes regional championship. That's fitting because Toronto's sports teams, are called the Blues.

Toronto's coed and women's teams both finished No. 1 in the region. In singles battles, the script was no different. Toronto's Aaron Wong captured first-place with second going to teammate Michael Zhang. In women's singles, Toronto's Vivien Zhou was first, with Alexandra Lesieur emerging as the event's runner-up.

Results from the late February tournament clearly show it was a clear cut Canadian blowout. Several US teams that performed well in divisional play, "got smoked" by Canadian squads in the regional, says Lillian Yu, the Great Lakes regional director. A former star table tennis player at the University of Toronto, Yu says her alma mater will now head to the NCTTA's national championships in Plano, Texas in April. But some of their talented friends from other Canadian schools will be making the trip, too.

Known as one of Canada's outstanding research institutions, the University of Montreal finished second in the coed team rankings, with McGill taking third place. Both schools will advance to the NCTTA's national championships for the first time, Yu noted.

Waterloo University finished 4th in the men's/coed team event, with Ohio State 5th. On the women's side of the ledger, Concordia took 3rd with Ohio State 4th, and McGill rounding out the top 5.

As stellar players from across the USA and Canada starting to gear up for the nationals, look for Toronto to make some noise at the NCTTA's big showdown in Texas. "Toronto is very strong this year," Lillian Yu says.

Lindenwood Captures Midwest Regional
By Andy Kanengiser, Media Relations Chair

Lindenwood University, the school from the Show Me State, showed out at the NCTTA's Midwest Regional Championship.

When all was said and done, Lindenwood finished No. 1 in the men's/coed team competition with Governors State taking the second spot. Based in Saint Charles, Mo., Lindenwood also captured first in the women's division, and scored solid triumphs in singles play.

In men's singles, Fernando Yamazato and Venkat Ramesh were the top two finishers from Lindenwood, with teammates like Everton Wilson II, David Cabera and Munkhbold Bayarsaikhan rounding out the top five. In women's singles, Lindenwood's Karin Fukushima was No. 1, followed by Kangkang Huang of DePaul at No. 2, and Leine Agata and Michelle John of Lindenwood taking 3rd and 4th. Luwen Zhang of Wichita State finished 5th.

Wichita State deserves mention for being fierce road warriors. Their team made a whopping twelve-hour drive from their university in Kansas. And that's just one way! Wichita's table tennis team featured a pretty unique father-son combination, Don and Kyle Beckstrom.

But the talk of the tournament, besides the amazing play by Lindenwood had to be GSU's dynamic camera crew. GSU brought six cameras for a live video stream of the team competition on Saturday. The two-day event took place at the fabulous Recreation and Fitness Center on the University Park campus near Chicago.

New York City Takes In Northeast Regionals
By Andy Kanengiser, Media Relations Chair

Not very far from the bright lights of Broadway, the NCTTA's Northeast Regional tournament took center stage in America's biggest city.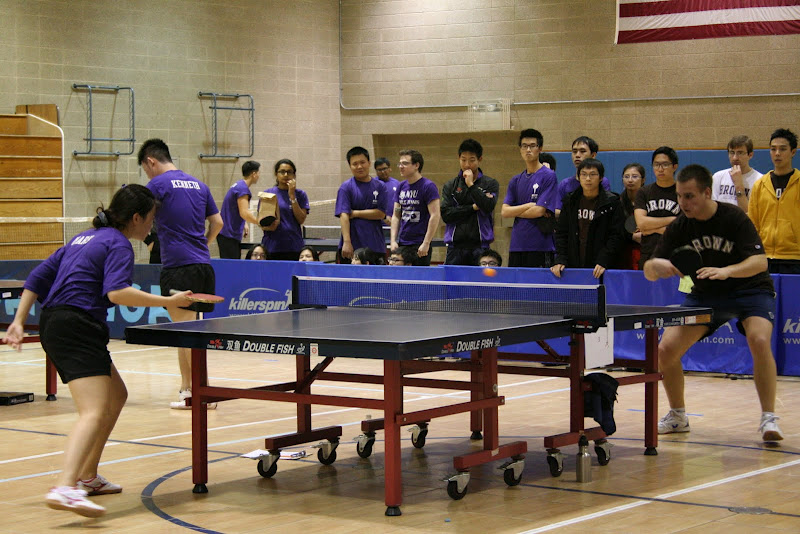 Table tennis fans visiting New York City's Fashion Institute of Technology saw Princeton's coed team narrowly defeat Columbia to win the first Northeast Regional Championship. It came down to a thrilling doubles match on that Sunday to decide the outcome with Princeton's Tigers clawing their way to an 11-9 victory in the 5th game. Give the Columbia Lions lots of credit for putting up a good fight in this clash of Ivy League rivals in their New York hometown.
Princeton, Columbia and Brown now advance to the NCTTA's national championships in Plano, Texas in April. Other coed teams competing in the Northeast regional included Boston University, Northeastern, Harvard, MIT, Rutgers and NYU.
Among other NYC highlights from February 19th, were several intense matches in the women's division. In the end, NYU finished on top with a win over MIT. New Jersey's biggest state university, Rutgers finished 3rd with Tufts ending the day in 4th place.
Singles action brought more excitement to the table in the Big Apple.
In men's singles, Amaresh Sahu of Princeton defeated Wesley Fan of Boston University, while Stephen Le of Rutgers captured third place with a win over Brown's Jurica Bulovic. In women's singles, Yanhung "Haley" Huang of Northeastern University in Boston defeated Stephanie Shih of Columbia in the finals. Third place went to Vanessa Petroj of Connecticut with a win over her opponent (Yeueh) from Rutgers.
Hats off to Wayne Chin, the FIT coach and his players, says NCTTA Recruitment Director Edmund Toomey who was on hand for the event. They deserve much thanks for helping set up and take down the 15 tables among other efforts to make this NCTTA tournament a first-class affair on FIT's Manhattan campus.
Northeast Regionals photo gallery
Texas Wesleyan Triumphs at South Regionals
By Andy Kanengiser, Media Relations Chair
A twelve-hour road trip to the South's NCTTA regionals in Atlanta obviously didn't tire out Texas Wesleyan, the defending national champs. In fact, the Rams showed enormous energy and stormed their way to victory on a weekend when deadly tornadoes hit parts of the South and Midwest. From strong singles play by TWU's Jose Barbosa and Sara Hazinski on the women's side to the powerful punch of its talented teams, the visitors from the Fort Worth campus were a mighty force all day in the Peach State.
Mississippi College took second and the Texas Longhorns grabbed the third spot. The trio of coed teams will next travel to the Nationals in Plano, Texas April 13-15. Rounding out the top eight in coed competition were Central Florida, Florida, Northern Florida, Georgia Tech and Florida State.
After driving home from Georgia in second place, Mississippi College coach Ken Qiu said the Choctaws gained valuable experience knocking heads with the national champs. Qiu is the MC team architect of a Mississippi College team that will be heading to the Nationals for the 5th year in a row. "When I saw our players competing with TWU players, it gave us some confidence and hope that we are able to compete with them at nationals," he said.
In men's singles, TWU's standout Jose Barbosa of Brazil finished first, just ahead of teammates Yahao Zhang and Andreas Ball. TWU players Zhedi Bai and Razvan Cretu placed sixth and seventh to also qualify for the nationals.
On the women's side of the ledger, TWU's Sara Hazinski took the top spot in singles with teammate Kristen Thorn placing 7th. The Lady Rams were bested by the Texas Longhorns in the women's team competition. The TWU women's team faces a bit of a rebuilding season after losing two very strong seniors from last season. Georgia State finished in third place, nabbing the final nationals spot.
Rockford Selected to Host 2013 Championships
By Andy Kanengiser, Media Relations Chair
Rockford hosts the biggest music festival in Illinois and is the hometown of an AHL hockey team known as the Rockford IceHogs. The north central Illinois city of more than 150,000 people is also the hometown of the famous rock group Cheap Trick.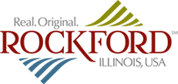 In April 2013, Rockford gains another distinction as host of the NCTTA's 2013 championship games. The best collegiate players in the USA and Canada will be visiting the north central Illinois city for three fantastic days of table tennis next spring. NCTTA leaders selected Rockford over seven other competing sites across the United States, including cities in such states as Florida, Oklahoma, Pennsylvania, Michigan, Minnesota, and New Mexico.

NCTTA President Willy Leparulo thanked all eight USA cities for recently submitting bid proposals and taking the time to turn in a massive amount of paperwork. The proposals covered everything from facility lighting to floor space, from area restaurants and cultural attractions to details about transportation, overnight lodging and other amenities.
But, as is the case, every year, only one site could be selected for the three days of fancy paddles, awesome spins and powerful slams.

Rockford's proposal stood out in the eyes of most NCTTA voters.

"Rockford has a nice setup with the hotel and venue so close to each other," Leparulo said. It puts the major hotel and facilities for table tennis within walking distance, which is something that NCTTA players, coaches and fans haven't experienced at recent championships.

There will be plenty to do for Rockford visitors when they are not playing, watching or dreaming table tennis. City leaders suggest checking out Jane, the 66 million-year-old dinosaur at the Burpee Museum of Natural History. The City of Gardens offers 7,000 acres of parkland, tree-lined streets and an exceptionally green downtown. Go see the Anderson Japanese Gardens. Rockford's sports facilities are first-class. Rockford life centers around the Rock River.

We're looking forward to taking our championship games to the Midwest in April 2013!

Got an idea for a future story or newsletter topic? Email the NCTTA Media Relations Chair.