NCTTA Newsletter
July 2012
Summer may mean a break from college table tennis competition, but there's still lots of college table tennis news to tell. From NCTTA election results, to table tennis scholarship opportunities, to a table tennis documentary, we've got lots of interesting stories in this month's newsletter.
Read on for all this and more ...
NCTTA Elections Yield Familiar Faces
By Willy Leparulo, Media Relations Committee
NCTTA has a new financial officer at the helm with Randy Kendle. Wait a second … wasn't Randy Kendle already on the NCTTA Board of Directors? As it turns out the former NCTTA Athlete Representative switched positions to run for Treasurer in June. Several other board members were re-elected to their current positions:
Willy Leparulo, President
Joseph Wells, Vice President
Randy Kendle, Treasurer
Wanda Wong, Human Resources Coordinator
Chris Wang, League Director Representative
The treasurer position was previously filled by Francois Charvet, affectionately known as "the Belgian" in NCTTA circles, who served in that role for the past four years.

"Unfortunately, professional and private time commitments made it difficult for me to stay longer on the board," explains Charvet. "Looking back, I am glad I had the chance to serve. There are a lot of exceptionally motivated people in the NCTTA family, and I learned more new skills than I would have ever thought."

During Charvet's tenure, NCTTA experienced tremendous growth which did create the occasional "balancing act" with the NCTTA budget. "Our goal at NCTTA has always been to try to keep membership fees reasonably low, while delivering high quality events," notes the outgoing Treasurer. But due in large part to Charvet's solid financial leadership, he will be leaving the organization in sound financial shape, well positioned for the continued growth of college table tennis.

As incoming Treasurer, Randy Kendle brings significant NCTTA experience both as Athlete Rep and as co-head coach of the Lindenwood table tennis team.

"I enjoyed chairing the NCTTA Redevelopment Committee as we worked through introducing last year's regional competition format." Kendle wanted to "keep the ball rolling" by stepping into the financial role for the organization. "I was concerned about how difficult it would be for a non-Board member to assume the financial reporting for the NCTTA and thought I might be able to learn it more quickly with my Board experience."

Kendle certainly gets a vote of confidence from his predecessor. Charvet enthuses, "Randy has done a tremendous job as Athlete Rep, and I have no doubt he will take the treasurer position to new heights."

Table Tennis Players Can Win $1,000 Scholarships
By Andy Kanengiser, Media Relations Chair

FREE MONEY!! And it's yours for the asking! The fact is, NCTTA players have a pretty good chance of winning $1,000 scholarships, but they must apply this summer to be eligible.

Before collegians return to campus in August 2012, with paddles, textbooks and music headphones in hand, we want to give everybody in our world a heads up about the NCTTA's fantastic scholarship program. The annual scholarships are made possible by our friends with Newgy Industries, the Tennessee-based company that manufactures table tennis robots, among other things. Newgy teamed up with NCTTA to begin offering scholarships back in 2008-2009.
With the USA economy still struggling with 8.2 percent unemployment and campus costs continuing to rise, a $1,000 college scholarship would come in handy for tuition, books and room and board. We should announce the winners by September.
Applicants must be table tennis players who are full-time undergraduates with a minimum GPA of 2.0 They must be from schools that competed in NCTTA circles this past season. Judges rate the candidates based on criteria such as their table tennis skills, academics, their essays (up to 1,000 words) and financial need.
Still interested? Completed applications are due by August 15, 2012 to be considered.
There have been 13 scholarships awarded since the early days of the program. The 2011-2012 recipients were Jingwen Hui of the University of Texas, Koji Higashi of the University of California-Berkeley, Ka "Anna" Ho of the University of Southern California and Ye Hu of the University of Wisconsin at Madison.
The NCTTA welcomes donations to the scholarship program year-round.
For questions or comments about the scholarship program, email us at info@nctta.org. We hope to hear from you soon!
Top Spin Documentary Features America's Best Table Tennis Teens
By Andy Kanengiser, Media Relations Chair
Fans of table tennis should check out the fabulous "Top Spin" documentary featuring America's best table tennis phenoms and their drive to bring home the gold at the 2012 Olympics.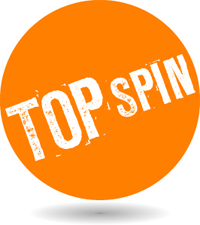 It's a creative film project currently in production, that takes a close look at teenage stars Ariel Hsing, 16, and Michael Landers, 17, on the road to win spots on the U.S. Olympic team and show off their skills in London. The games in England start July 27.

If you are an NCTTA player in the United States or Canada, you will want to see clips of this film in progress at the website Kickstarter.com. If nothing else, the documentary will get you pumped as we approach the start of the 2012-2013 table tennis season at nearly 160 colleges in North America. It's also a good way to get millions of fans ready for the Olympics, where table tennis has been a popular sport since 1988.

Just watch a few minutes and you will see the fierce dedication of these two athletic phenoms from the USA and their rise to the top. For starters, Ariel, as a youngster, used to practice her favorite sport six hours a day. Today, many kids watch TV or play video games for that long or longer each day. A terrific table tennis player as an eight year-old, Ariel caught the eye of billionaire Warren Buffett when she turned nine. Today, Buffett remains one of her biggest fans.

Now a high school junior, Ariel is dead serious about the sport. But she knows how to laugh, too. In some of the footage, Ariel pokes fun at her dad when he's trying to cut the rubber on her paddle. Evidently her father's craftsmanship isn't quite up to her standards!

Mina T. Son and Sara Newens are the producers of this innovative film project based in Palo Alto, California, the city that's home to Stanford University. They are currently in the process of raising $75,000 from around the country to enable them to film segments of the two teens at the Olympics. Every bit helps – whether it's a gift of $1 or $10 or something greater. Head over to the project's Kickstarter page to make a contribution by July 19.

At NCTTA headquarters, we give the film two thumbs up for promoting our favorite game and telling the compelling story of the aspirations of American teens passionate about table tennis.

So check out Top Spin, but also get hooked up to get more information about the Olympics by going to NBCOlympics.com. And turn to your NBC television stations starting July 27 to watch the planet's best athletes, whether the sport is swimming, basketball, track and field, gymnastics – or table tennis. Let the games begin!

Division Directors Needed for Upcoming Season
By Andy Kanengiser, Media Relations Chair

NCTTA is looking for an "A-Team" of talented volunteers to step up and give back to collegiate table tennis. Opportunities are almost unlimited for men and women with a passion for this Olympic sport.

Division Directors: NCTTA has more divisions than ever and is looking for folks to fill openings in the following divisions:
Panhandle (North Florida, South Georgia)
Carolina (North Carolina, parts of South Carolina)
Kansas
Dixie (Alabama, Mississippi, Louisiana)
New Jersey
We're looking for people who know the ins and outs of the sport, can organize and run tournaments in their area and promptly check and return emails. Division directors cannot be a competing player in NCTTA competition.
There are some rewards for the hard work. The NCTTA will supply some financial assistance so division directors can attend the 2013 national championships. Plus an NCTTA polo shirt, USATT membership, and free umpire certification all come with the job. You say you feel you don't have exactly what it takes? NCTTA leaders will supply the training.
How to apply: We want to know a little about your background and experience in table tennis and a brief bio would help. Send us an short statement of no more than 500 words about why you want to fill these shoes. Send it by August 12th to info@nctta.org
ACUI Championships Introduces Texas A&M Corpus Christi to College Table Tennis
By Willy Leparulo, Media Relations Committee
Texas A&M Corpus Christi came looking for fame and fortune and ended up finding a little of both at the 2012 ACUI Table Tennis Championships. Held June 29-July 1 at Indiana University in Bloomington, Indiana, the ACUI championships attracted athletes from 16 different schools.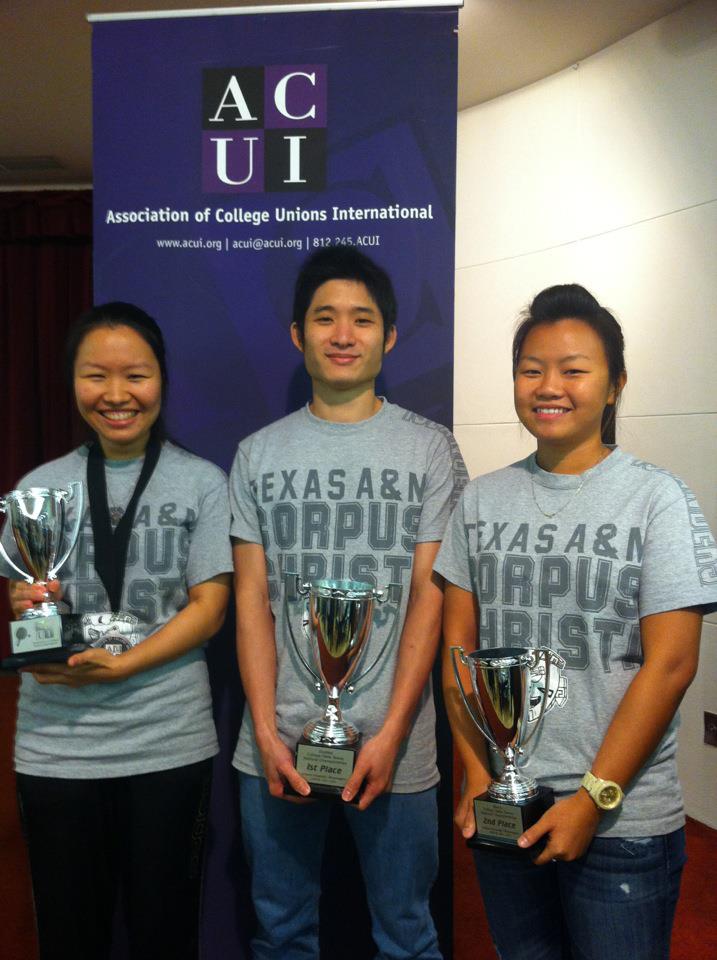 The Association of College Unions International has sponsored college table tennis events for more than three decades, with their latest championship featuring the top 24 players qualifying through regional competitions in both genders. Sending three students was the Corpus Christi campus of Texas A&M.
Known as "the Island University," Texas A&M Corpus Christi is surrounded by natural wetlands, somewhat unusual in a state well known for its open plains and cowboy lifestyle. Drawing inspiration from the surroundings, the school's athletic teams are known as "the Islanders."
Corpus Christi's three ACUI qualifiers hail from all three different countries: Wahsin Leeskul (Thailand), Thi Nguyen (Vietnam) and Xiaoling Huang (China). Leeskul was a member of Thailand's national youth team when he was 17 years old; Nguyen started playing at age 8, but after a hiatus regained her love for the sport in college and, Huang originally from China was trained professionally while working on her undergraduate degree in Guangzhou city.
NCTTA Seeks Committee Members to Help Grow College Table Tennis
By Willy Leparulo, Media Relations Committee
NCTTA is looking for the few, the proud, the … no, not the marines, but NCTTA committee members!
Really we are just looking for people that love college table tennis and want to lend a hand to help it grow. Without the support of volunteers and committee members, we wouldn't be able to put on such great events for the college table tennis populace.
So whether you're a current college student looking for some leadership experience (looks great on a resume), or a college table tennis alum looking to get back involved with NCTTA (it's a great way to give back), or just someone that wants to see the sport grow, join with NCTTA to take college table tennis to the next level.
With lots of committees to fill, and a growing organization adding new divisions and regions, we need all the help we can get. If you like to write, can help us with marketing efforts, are interested in working with the athletes with disabilities, or have other talents or interests, we want to hear from you this summer. We are also seeking to add more folks to NCTTA leadership posts, including new regional directors, so please let us know what you bring to the table.
So, if you can spare a few hours a month, take a look at the list of committees, and drop us an email at info@nctta.org by August 25th to let us know which you might be able to help with:
Media Relations Committee
Marketing Committee
Financial Committee
Championships Committee
Women's Committee
Rules and Audit Committee
Coaching Committee
Disabled Athlete Committee
Recruitment Committee
Ratings Committee
Website Development Committee
Eligibility Committee
Alumni Relations Committee
We look forward to hearing from you and making our future even brighter!

Sponsor Corner
Special thanks to our sponsors, Butterfly and Newgy!
NCTTA, would like to thank Butterfly for its support of college table tennis. Butterfly is the exclusive NCTTA League and Championship Equipment sponsor for the 2011-2012 season. Grab all your favorite Butterfly equipment in the online Butterfly store.

Also, special thanks to NEWGY Industries, for its continued support of college table tennis Newgy offers a great way to fundraise for your club and help out our sponsor as well by signing up and participating in their Newgy Robo Pong Affiliate Program.
2012-2013 Preseason Ranking Survey
Answer a few quick questions about your team to be included in the preseason rankings
Want to know how your team stacks up for the upcoming season? Just fill out the preseason rankings survey below to help us preview the fall competition and put together the most accurate possible preseason rankings.
Teams that do not reply to this survey will NOT be included in the Preseason Rankings.
Please send email to info@nctta.org by August 15th with your name, school/team (coed or women's) and answers to these questions:
Which players that competed for your team in the 2011-2012 season will be returning to compete in the upcoming 2012-2013 season?
Do you know of any new players that will be joining your team and participating in the upcoming season? If so, what are their estimated ratings?
What is your projected team roster for the upcoming season?
Do you currently have or do you plan on recruiting a coach for the upcoming season?
How many non-NCTTA tournaments does your team plan to attend during the upcoming year? -In terms of practice space and time for the 2012-2013 season, do you anticipate having more, less or the same amount as in years past?
Best of luck to all teams competing in the upcoming season!
Got an idea for a future story or newsletter topic? Email the NCTTA Media Relations Chair.